7 Amazing Benefits of Yoga, Mantra and Kathak During Pregnancy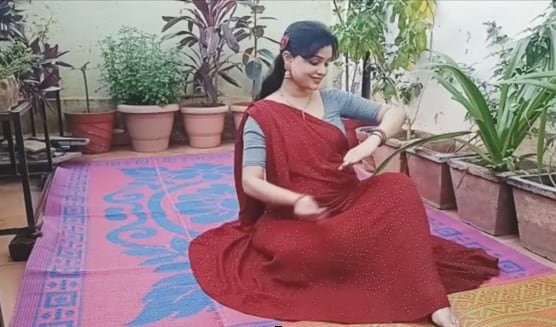 In pregnancy, kathak dance, mantra chanting, and yoga can be beneficial to women in countless ways. Here is the real-life story of my student's experience. I hope it helps you to grasp the importance of learning new skills and applying them effectively.
Deoyani Dahe, 31, an ayurvedic doctor, has decided to take Garbhsanskar and Prenatal Postnatal yoga training in December 2021 at AYG Academy. Due to pcod, she was having difficulty conceiving in January 2022. Even if she misses her class, she sometimes studies on recordings if she misses a class. Her course was successfully completed in February 2022. Additionally, she expressed gratitude for becoming more conscious and energetic, which she had never experienced before.
It was good news that she was conceived but the placenta was low-lying. However, by 20 weeks, the problem was resolved. A message sent to me by her on September 5, 2022, said that she was expecting delivery within 15 days and that she had applied the skills she learned in the course very thoroughly, focusing on asanas, pranayam, mantra, and her passion for Kathak dance. After a fulfilling nine months of pregnancy, she was delighted to proceed to labour shortly.
Check out these seven amazing benefits. 
Kathak Dance provides relief from pregnancy-related symptoms like nausea, fatigue, and aches. Pregnant women usually face these situations during their first trimester

Maintains flexibility and muscle tone during pregnancy. During pregnancy, it makes it possible for the baby to grow in the womb without much pain for the mother.

As a stress reliever, it improves pregnant women's mood and energy. Having positive emotional health boosts a fetus' growth and development.

Pregnant women benefit from a healthy status of their heart and lungs. The healthy health of these vital organs provides healthy nourishment for the unborn baby.

Even complications like miscarriage, abortions, gestational diabetes, overweight and preeclampsia during pregnancy can be reduced by exercising during pregnancy.

It boosts a woman's strength and stamina while pregnant, preparing her more effectively for childbirth. Since childbirth is one of the most strenuous processes a mother and baby must undergo, it is essential to prepare them well in advance. It is essential to align hormones with yoga and mantra chanting on a regular basis in order to maintain this balance.

The ancient text wrote 72 postnatal diseases. They are literally preventable with yoga. Because yoga is a philosophy of prevention, it has been shown to reduce recovery time after childbirth. After childbirth, all of these practices assist women in overcoming this problem as well as recovering quickly.
It is always a good idea to consult your doctor before engaging in any activity during pregnancy, including yoga. Please let us know in the comment if you need such guidance and don't forget to share and save the post so that you can refer to it later.