"Our goal is to unite ancient wellness practices with cutting-edge scientific knowledge to empower women, would-be parents and health professionals in achieving their best reproductive health"
Simplifying pregnancy and childbirth through ancient sciences!
Women and infants die every five seconds from pregnancy or labour complications. To combat this, the world has been trying to build artificial wombs to prevent preterm births. Myths and misconceptions surrounding chilbirth has been perpetuated due to lack of education. What do we do to solve this? The ancient science of Garbhasanskar has the answer.
I have witnessed many cases of miscarriages and abortions within my family and friends circle. This resulted into a very strong urge to educate young women on pregnancy and childbirth.
That's where AYG Academy was born.
AYG Academy – The Inception

AYG Academy was founded by Dr. Nutan in July 2020, with the aim of promoting ancient sciences Ayurveda, Yoga, and Garbhasanskar under one umbrella. The academy is a registered yoga school with the World Yoga Organization, registered with the Ministry of Ayush, and is an affiliated associate center of the Indian Yoga Association (ID of IYA/AC/2021/077).
The academy aims to prevent illness and promote well-being by offering medical consultation services, educational courses, and yoga classes. Its main focus is promoting immunity in physical, psychological, and emotional well-being and health of the family and the globe.
With its mission to promote immunity in physical, psychological, and emotional well-being and health of the family and the globe, the academy offers self-paced and online/onsite educational courses /consultations /classes on Ayurveda, Yoga, and Garbhasanskar, which have helped countless patients and trained over 1000 teachers.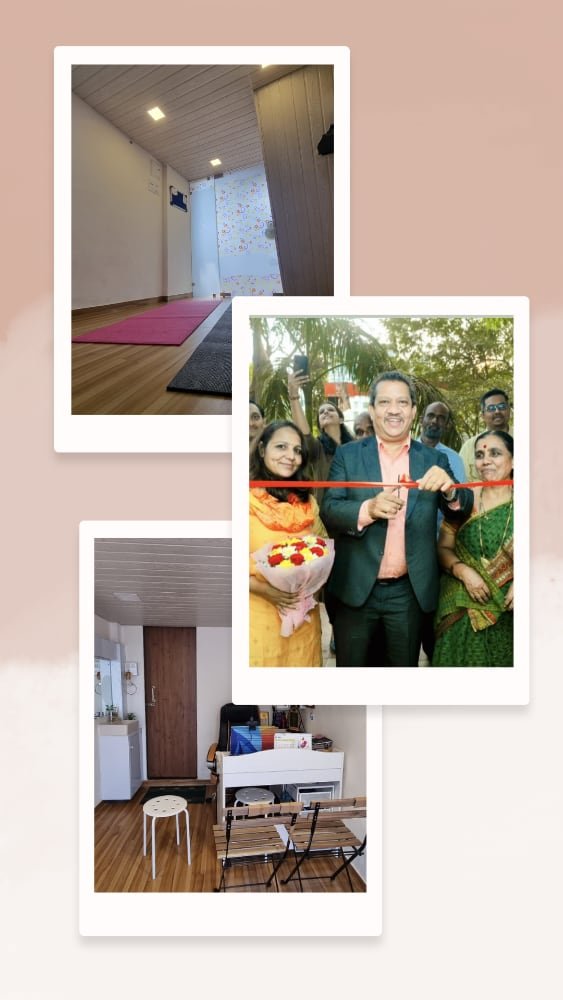 Ayurveda and Yoga are two sides of the same coin.
Garbhasanskar adds a third dimension...an equally important one for our wellbeing!
Dr. Nutan's Humble Beginning
Dr. Nutan comes from a very humble background. Her father was the sole breadwinner of our family of six and they had very limited means while growing up. However, her parents ensured that all the four children completed their college education. Today, all of them are well-settled having families of their own. It is an outcome of her parents' hardwork and relentless struggle to provide for their children. Dr. Nutan owes her entrepreneurial success to them!
Learning the ropes…
Dr. Nutan aspired to be a doctor right from childhood. She graduated with a BAMS degree in 2002. Also, she considers herself to be blessed to have interned under the best doctors of Mumbai right after finishing college. That training helped her become astute in clinical diagnosis. 
Working with gynaecologists and obstetricians. Dr. Nutan developed experience of treating various women's health issues. It helped her understand the limitations of modern medicine and cemented my belief in the traditions of Ayurveda and yoga, which can work wonders in healing people. 
AYG Academy has Proudly Served
"Yoga Guru Award" presented by Nehru Yuva Kendra Sangathan District Sports Ministry, Mumbai, and the Government of India, 21st June 2017.
"Panacea Excellence International Award 2018" for her contributions in the field of Ayurveda and Yoga at the 12th Panacea International Conference on Ayurveda and Holistic Healing, 2018, Nepal.
"National Women Leadership Award 2020" for outstanding work in the field of Ayurveda and Yoga, 26th January 2020.
"Ayurveda Gold Medal Dhanvantari Jyoti Award" 2021 for excellent work in the field of Ayurveda, 17th October 2021.
"Women Iconza 2022" is an award conferred by Times Applaud, a leading press release and public relations organization.
" Dhanvanatari Award 2022" for exceptional work in Ayurveda, by the Ministry of Ayush, Government of India, 19th October 2022 
Publications and Community Service
Several articles on traditional medicine and health have been published in digital and print media formats by her.
Dr. Nutan has also been interviewed by reputed names in the media – CNBC Awaaz News Channel, Vivid Bharati, FM radio, and Akashwani.
Besides promoting the Indian science of well-being, Dr Nutan also provides academic courses, consultations, webinars, live videos on YouTube and Instagram, and slide-share presentations for the general public, promoting the combined fields of Ayurveda, Yoga, and Garbhasanskar.