The Ultimate Guide to Garbhasanskar
Available in English, Hindi, Marathi
A comprehensive Garbhasanskar guide book for
would-be mothers, prenatal, postnatal yoga trainers, students
The distinctive aspect of a woman's life is her ability to give birth. The  concept of Garbhasanskar reveals the secret of healthy conception and pregnancy based on a healthy body, pleasant state of mind, mutual love and strong bonding between the couple, as per this garbhasanskar book. 
For a couple who's expecting, yogic practices are instrumental in maintaining harmony in their thoughts, relationships, and in creating a  positive environment before, during and after the process of bringing forth a new life in their family. Together, Ayurveda, Yoga, and Modern science support human life by enriching the experience of existence with comprehensive preventive and curative measures. 
This book brings forth an integrated approach towards these sciences to educate and help couples in attaining good health during pregnancy, thereby forming a strong foundation for the child's wellness.

Dr. Nutan Pakhare has been passionate about the subjects of pregnancy and conception. In this garbhasanskar book, she brings out the nuances of childbirth, pregnancy care blended with the ancient concepts from Garbhasanskar – the science of creation and cultivation of life.
Dr. Nutan Pakhare has worked as a clinical physician in the top-most hospitals and Yoga institutes of Mumbai. She has also worked in rural hospitals. She has over 18 years of expertise of treating and teaching people for wellbeing through custom-built health programmes combining Ayurveda, Yoga, and modern science. She is part of several community speeches and workshops on health and wellbeing. She has been guiding national and international students with her expertise of Ayurveda since many years. She has done motivational presentations and Yoga sessions for corporations and NGOs at regular intervals. 
Dr. Nutan has treated a large number of patients utilising both traditional and cutting-edge medical techniques as of right now. She has seen the limits of contemporary medicine as well as the enormous healing potential of conventional medicine. She has learned that Ayurveda and Yoga can help avoid sickness by boosting the body's natural defences. Through her AYG Academy, she encourages these fields of study and her garbhasanskar book is an initiative on that path.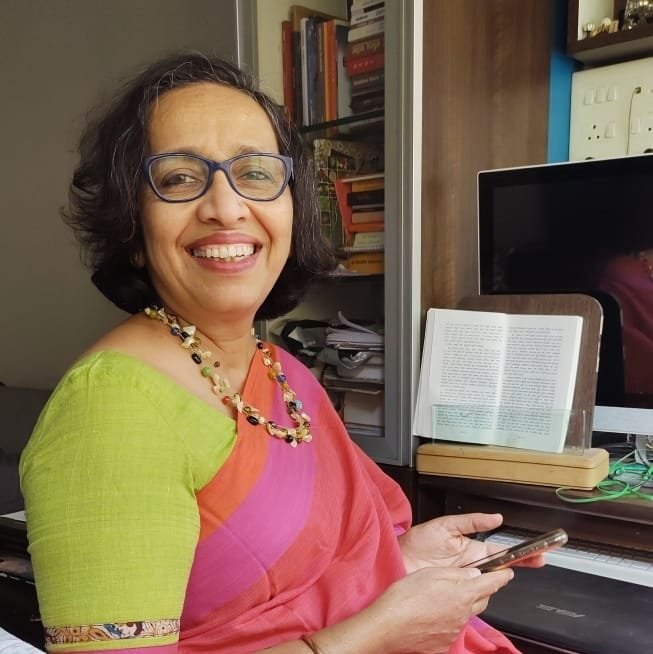 Dr. Shuchita Nandapurkar Phadke
Dr. Shuchita Nandapurkar Phadke, a former academician and a passionate reader has made a name for herself by turning her passion into her profession. A journey that started with editing and proofreading has now reached a milestone of around 60 published translated titles, 30 yet to be published and two books in a collaborative effort, as an author. These books, 'Tuzyasave' and 'Shubh Mangal' address the crucial issue of crumbling marriages in today's day and era.
Dr. Nandapurkar Phadke has also translated Robert Thurman's Tibetan Book of the Dead: Liberation Through Understanding in the Between from English to Marathi. The book is currently undergoing the pre-publishing edits and is expected to be published soon.
Her experience in translation is as diverse as her own set of interests. From Legal and Educational to Mythology and Spirituality, Philosophy to Erotica and Self-help, she leaves no stone unturned to ensure an end product that, while encasing the essence of the original one, is never quite as boring as a word-to-word translation.
Her dedication and commitment to the field of translation has inspired her to pursue her PhD in the same. She has a doctorate in Management and Techniques of Translation. She's also a counselling psychologist and has been donating her skill and time to a cancer care support group that offers counselling and mental support to the families or cancer fighters and the fighters themselves.
The Fundamentals
of a Healthy Conception
1. Fundamentals of Healthy conception
2. Prerequisited for Healthy Conception
3. Knowing your child's personality
4. Holistic Pregnancy Care
5. Foetus Nourishment
Childbirth - Holistic Care and Ancient Concepts from Garbhasanskar
1. Development of Foetus
2. Postnatal Holistic Care
3. Overcoming Common Challenges in Pregnancy
4. UTIs and its care
5. Menopause and Guidelines
"Congrats dear Nutan Pakhare on this most valuable addition to the field of Integrative Medicine that will provide a newer perspective for so many health care professional. More strength to you and blessings for all success."
Dr Nutan's book is a comprehensive guide not only to pregnancy but also to every developmental milestone of a woman's life. Right from menarche to menopause and beyond, a woman's body undergoes various changes. This book offers invaluable insights from the ancient Indian sciences of Ayurveda, Yoga & Garbhasanskar that are relevant to every individual. It lays bare the practices specified by Ayurveda for a healthy body & conception, the role of Yoga therein, and the factors that influence not just conception and gestation but also the overall personality of a newborn child. I wholeheartedly recommend this book to everyone - gender, age and profession no bar. Whether you want to have a child, or have one, or are a grandparent, this book has something to offer to you and every member of your family.
10% off on order of 5 – 10 books
20% off on order of 10 – 20 books
PLEASE FILL OUT THE ORDER FORM. OUR TEAM WILL GET IN TOUCH WITH YOU.